Cabo Airport Transportation to
Zoëtry Casa Del Mar Los Cabos
Executive transportation services from SJD Cabo Airport to Zoëtry Casa Del Mar Los Cabos, situated in the distinguished Cabo Corridor. Clients have the choice of economical shared shuttle services, accommodating up to 10 passengers with multiple stops, or the exclusivity of private luxury vehicles, which range from SUVs and Sprinters to state-of-the-art Teslas.
$22 Shuttle / $83 SUV
SJD Taxi will send you a full receipt with arrival instructions including the meeting point, map, and numbers for your arrival within minutes of booking. Grand Velas Hotel Los Cabos is only 28 Km or 17 miles from the SJD Cabo Airport. The driving time is about 30 minutes.
Zoëtry Casa Del Mar Los Cabos
Nestled along the pristine shores of the Baja Peninsula, Zoëtry Casa Del Mar Los Cabos emerges as a sanctuary of elegance and serenity. This esteemed resort, exquisitely positioned in the celebrated Cabo Corridor, is more than just a vacation destination; it's an experience that rejuvenates the spirit, mind, and body. Zoëtry is located next to Las Ventanas al Paraiso, A Rosewood Resort in the Cabo corridor.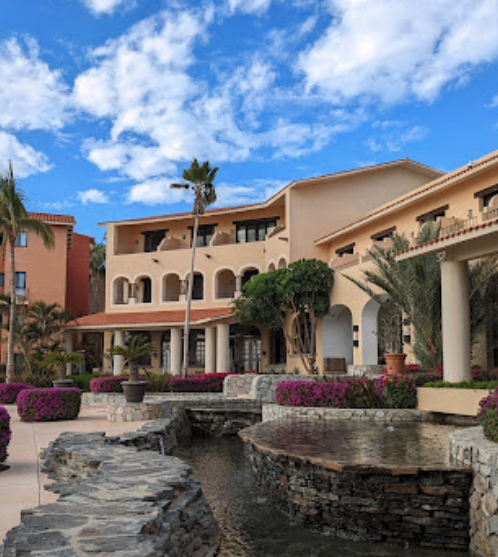 As guests step onto the property, they're immediately enveloped by the harmonious blend of traditional Mexican architecture and contemporary design. The resort's buildings, bathed in warm hues, evoke feelings of being in a luxurious hacienda, while the surrounding verdant landscapes and the azure waters of the Sea of Cortez form a mesmerizing backdrop.
Every suite at Zoëtry Casa Del Mar is meticulously curated, exuding sophistication and comfort. The rooms boast expansive terraces, affording panoramic ocean views, and interiors adorned with artisanal touches. Furthermore, the all-inclusive Endless Privileges® experience ensures that guests enjoy gourmet dining, top-shelf spirits, and a plethora of enriching activities, all designed to satiate the discerning traveler's palate.
Cabo Airport Transportation to Zoëtry Casa Del Mar Los Cabos
Beyond its physical allure, the resort is deeply committed to holistic wellness. The world-class spa, with its myriad of treatments rooted in indigenous traditions, becomes a haven for those seeking rejuvenation. Cultural experiences, yoga sessions, and culinary workshops are seamlessly woven into the guest's itinerary, making each stay uniquely transformative.
Now, while the splendor of Zoëtry Casa Del Mar is undeniable, the journey to this paradise is equally paramount. For guests arriving at the SJD Airport, SJD Taxi offers both efficient and economical transfer solutions. Whether one opts for the shared shuttle service, a budget-friendly choice that doesn't compromise on comfort, or the private SUV option, which adds an extra layer of luxury to the commute, the transition is smooth. By booking online through their secure website, guests can ensure their transportation is arranged well in advance, allowing for a seamless experience from touchdown to check-in.
In conclusion, while Zoëtry Casa Del Mar Los Cabos promises an unrivaled stay, SJD Taxi ensures that the journey to this oasis is in keeping with the resort's ethos of luxury and efficiency.
Zoëtry Casa Del Mar Los Cabos is situated a mere 30km (18.5 miles) from Los Cabos International Airport, which translates to approximately a 30-minute drive. To reach the resort, embark on the Cabo San Lucas Road (toll road). Subsequently, turn right onto Carretera Transpeninsular, heading in the direction of Cabo San Lucas. At the marker for km 19.5, execute a left turn to arrive at the luxurious premises of the resort. The address to Zoëtry Casa Del Mar is Carretera Transpeninsular Estado de México MX, 5 Cabo Real Km. 19, 23400 San José del Cabo, B.C.S., Mexico.
---
*all images are copyrighted and trademarks are of their respective owners. SJD Taxi is not affiliated with Zoëtry Casa Del Mar Los Cabos.