Cabo Airport Transportation to Lumina at Cardinal Living Condos San Jose del Cabo
Booking a private ride from Los Cabos Airport to the Lumina at Cardinal Living Condos in San Jose del Cabo has never been easier with the 24/7 online or phone reservation options offered by SJD Taxi. Transportation reservations for shared shuttles or private SUVs are secure and simple.
$19 Shuttle Per Person | $79 Private SUV
For those who prefer to engage with a dedicated customer service representative, we kindly encourage you to reach out to us via our toll-free numbers: (248) 582-9239 for calls originating from the USA and Canada, or 1-866-753-7403. At SJD Taxi, our commitment to transparency is unwavering. We take pride in providing clear and upfront pricing to our esteemed clientele, devoid of any concealed charges.
Lumina at Cardinal Living Condos San Jose del Cabo Transportation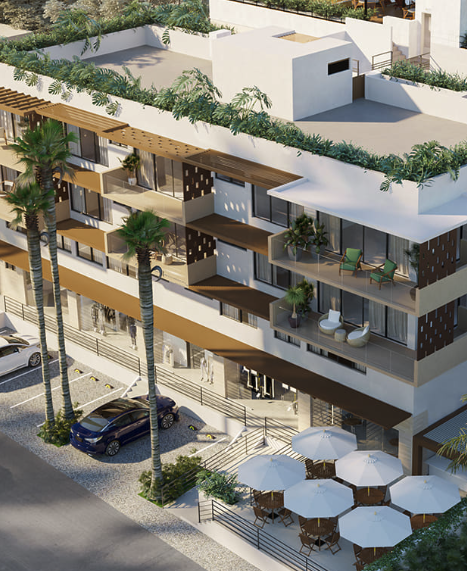 Discover the Epitome of Luxury Living at Cardinal Living Condos in San Jose del Cabo! Situated within the stunning landscape of Baja California, Cardinal Living Condos offer an unmatched fusion of modern architecture, natural beauty, and world-class amenities.
From meticulously designed living spaces to a wealth of on-site indulgences, this residential enclave is a testament to opulence and sophistication. Join us as we explore a lifestyle where every detail is crafted to perfection, promising an extraordinary experience for those who seek the finest in coastal living. Cardinal Living San Jose del Cabo has a sister location in Cabo San Lucas called Lumina at Cardinal Living Condos Los Cabos.
Luxurious Living Spaces: Our meticulously designed condos range from spacious one-bedroom units to opulent penthouses. Every square foot is a testament to craftsmanship, featuring high-end finishes, top-of-the-line appliances, and large windows that frame the stunning Sea of Cortez views. These living spaces are more than just homes; they're works of art.
World-Class Amenities: Cardinal Living takes indulgence to new heights. Our residents enjoy access to a private beach club, infinity-edge pools, a world-class spa, state-of-the-art fitness facilities, and gourmet dining options. Whether you're looking to unwind or stay active, our amenities cater to every whim.
Safety and Security: Your peace of mind is paramount at Cardinal Living. With 24/7 concierge service and a dedicated staff, we ensure your safety and comfort at all times. The complex is impeccably maintained, reflecting our commitment to excellence.
Prime Location: Cardinal Living is perfectly situated to explore the vibrant culture, renowned golf courses, and lively nightlife of the region. The Cabo del Sol Golf Course, designed by the legendary Jack Nicklaus, is just a stone's throw away, providing golf enthusiasts with unmatched access to world-class fairways and greens.
Shared Shuttle to Lumina at Cardinal Living Condos in San Jose
When you choose Cardinal LivingCondos in San Jose del Cavo, you choose a lifestyle of convenience. Arriving at Cabo Airport is hassle-free, SJDtaxi provides a seamless transition onto your vacation. SJDtaxi offers efficient shared shuttle and private transportation services, ensuring that your journey to Cardinal Living San Jose del Cabo is as luxurious and stress-free as your stay here.
The Lumina at Cardinal Living Condos in San Jose del Cabo is the epitome of luxury living in Mexico. With its awe-inspiring views, lavish amenities, and unwavering commitment to excellence, it offers a lifestyle that seamlessly combines natural beauty, sophistication, and leisure. Make Cardinal Living your home, and experience the extraordinary every day.
---
*All images are copyrighted and trademarks are of their respective owners. SJD Taxi is not affiliated with The Lumina at Cardinal Living Condos San Jose del Cabo.