Cabo Airport Transportation to Hotel Villa Santa Cruz Todos Santos
Navigating from Cabo Airport to the serene surroundings of Hotel Villa Santa Cruz in Todos Santos is a journey from bustling terminals to tranquil beachfront luxury. With the right transportation, this transition becomes a seamless prelude to a memorable stay.
$55 Shuttle | $195 Private SUV
For direct assistance from our customer service team, please call us toll-free from the USA and Canada at (248) 582-9239 or 1-866-753-7403. Choosing SJD Taxi's services guarantees travelers a seamless transition to the elegance and serenity of Hotel Villa Santa Cruz in Todos Santos. We specialize in Group Transfers for Weddings and retreats – just ask!
Hotel Villa Santa Cruz Todos Santos: A Blend of Luxury and Authenticity
In the picturesque setting of La Paz, BCS, Hotel Santa Cruz Todos Santos stands as a beacon of luxury and authenticity. With the added advantage of "Hotel Santa Cruz Todos Santos Airport Transportation," guests can anticipate a hassle-free journey from the airport to this oasis of comfort.
Prime Location and Nearby Attractions: Nestled in the heart of Todos Santos, Hotel Villa Santa Cruz offers its guests a unique blend of tranquility and accessibility. The hotel's prime location ensures that guests are never too far from the vibrant culture and history of La Paz. Whether it's the local artisan markets, historical landmarks, or the pristine beaches, everything is just a stone's throw away.
Wedding & Events at Hotel Villa Santa Cruz
Villa Santa Cruz embodies the allure of hidden treasures. Tucked away in a serene corner of the world, its primary aim is to offer spaces that beckon guests to pause and craft unforgettable memories with their dear ones. By seamlessly integrating the Baja ethos into every facet, the villa encourages guests to absorb the raw beauty of their surroundings, cherish life's simple pleasures, and fortify connections with family and friends.
Weddings – Be it an intimate rendezvous or a lavish festivity, the venue's captivating landscape promises an ambiance of romance, rhythm, and jubilation.
Exclusive & Personalized Ambiance. Enjoy the entire property exclusively with your cherished ones.
Diverse Venues for Every Moment. Whether it's the beach's serenity or the Villa's hacienda charm, select what resonates with your style.
Effortless Planning. Our dedicated team is here to seamlessly translate your wedding dreams into reality.
Simple Group Transportation – SJD Taxi and its fleet will ensure your guests make it to this memorable location.
The Allure of Todos Santos. The bohemian elegance of Todos Santos infuses a unique local charm into your festivities.
A Memorable Three-Day Affair. Make it a weekend to reminisce, complete with a Pool Party and a welcome soiree at either The Green Room or The Villa Santa Cruz Farm.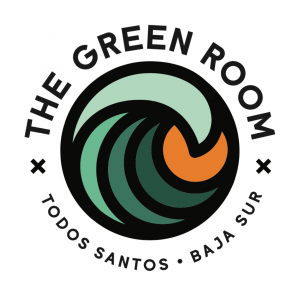 Group Retreats – The villa's thoughtfully curated communal spaces inspire groups to blend work with leisure, creating an environment conducive to bonding and mutual understanding.
Culinary Experiences: Dining Options Near and Far
Todos Santos is a gastronomic delight, and the Hotel Villa Santa Cruz's strategic location ensures that guests are always close to a culinary adventure. A plethora of restaurants, ranging from local eateries serving traditional Baja cuisine to upscale dining establishments, are within easy reach. The fresh seafood, a hallmark of the region, is a must-try for all visitors.
The Hotel Villa Santa Cruz kitchen takes pride in serving fresh, local, and genuine Mexican cuisine. Start your day with trays of locally roasted coffee or tea accompanied by our homemade muffins delivered right to your doorstep. Relish hearty meals enriched with family-secret sauces and ingredients sourced from our VSC farm, ensuring every dish is vibrant and delectable. Whether it's breakfast on the Villa's patio, poolside refreshments, or dinner paired with cocktails, you'll savor the finest flavors of Baja.
Where is the famous Green Room restaurant in Todos Santos?
The Green Room, located at Villa Santa Cruz in Todos Santos, is a beachfront culinary gem. It offers a delightful blend of upscale Mexican seafood in a relaxed setting, capturing the essence of Baja's enchanting beachside charm. As you dine, the Pacific serves as your backdrop, allowing you to witness breathtaking sunsets, migrating whales, and the graceful flight of local birds, all while savoring refreshing margaritas and delectable seafood. This restaurant epitomizes the authentic Baja beach dining experience.
The vibrant surf culture of Baja is woven into the fabric of the restaurant. Menu items pay homage to renowned Baja surf spots, surfboards adorn the ceiling, and guests are encouraged to embrace the beach vibe – so come as you are, whether that's in board shorts, bikinis, or barefoot. The restaurant's name, "The Green Room," is inspired by the serene, green-hued space inside a wave's barrel, where sunlight filters through the water. This tranquil moment amidst the ocean might mirror the dining experience here. Just as surfers cherish the moments in the green room, our aim is to offer guests an unforgettable meal, combining delicious food, refreshing beverages, and the unparalleled ocean vistas of Todos Santos.
Outdoor Lounge
The "Lounge" outdoor living space offers a captivating setting for cherished moments. By day, it serves as a delightful spot for breakfast, and conversations, or even as a workspace. As night falls, it metamorphoses into a sophisticated and snug lounge. With dinner and cocktails complemented by the gentle warmth of a fireplace and the ambient glow of candlelight, it becomes an intimate haven for romance and rekindling bonds.
Amenities and Features of Hotel Santa Cruz Todos Santos
Every aspect of the hotel speaks of luxury and attention to detail. From the elegantly appointed rooms to the state-of-the-art amenities, guests can expect nothing but the best. The hotel also boasts a range of facilities, including a spa, swimming pool, and fitness center, ensuring that guests have everything they need for a rejuvenating stay.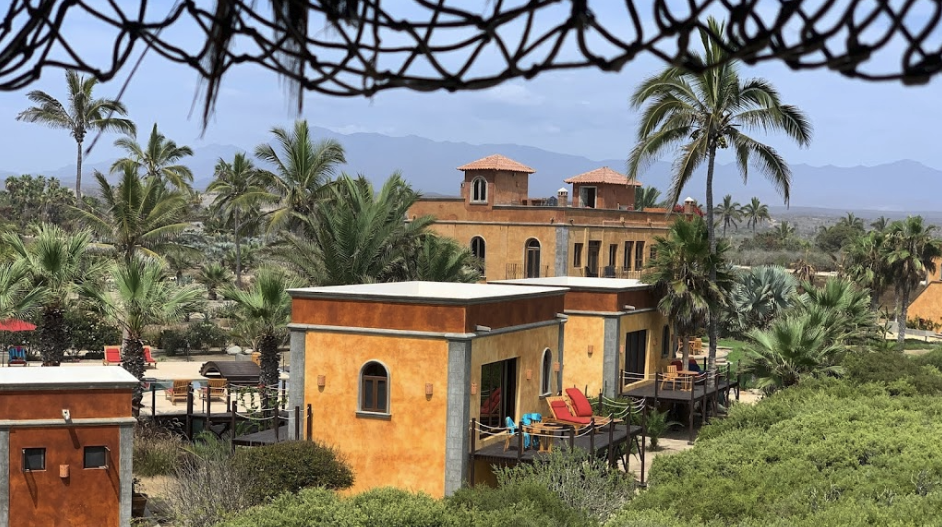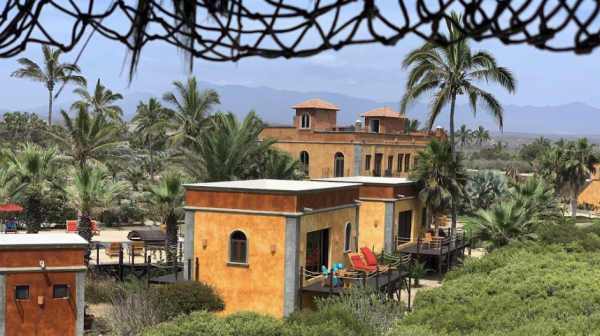 Villa Santa Cruz presents 16 ocean-view rooms, each tailored to offer a unique experience across four distinct accommodation styles. Tented Ocean Suites redefine luxury beachfront glamping, while the Bungalows provide generous patios with sweeping ocean vistas. The North Villa Suites and Main Villa Rooms are imbued with warm hues, evoking the charm of old-world Mexico. Every room is meticulously designed to immerse you in the enchanting allure of Baja.
SJD Taxi: Seamless Transportation from Cabo Airport to Todos Santos: For those landing at the Cabo Airport, SJD Taxi offers shared shuttles that transport guests to the downtown Todos Santos bus station. Given its close proximity to Hotel Villa Santa Cruz Todos Santos, this becomes an affordable and convenient transportation option. For guests who prioritize privacy and direct transfers, SJD Taxi also provides exclusive private transfers, ensuring a comfortable journey straight to the hotel's doorstep.
Hotel Villa Santa Cruz Todos Santos, BCS, is more than just a place to stay; it's an experience. From its luxurious accommodations to the ease of transportation with SJD Taxi, every aspect of the journey promises to be memorable.
How far is Hotel Villa Santa Cruz from SJD Cabo Airport?
Hotel Villa Santa Cruz is 114.6 km from the SJD Los Cabos International Airport and takes on average about 1-½ hours via car. The official address of Hotel Villa Santa Cruz is Blvd, P.º Malecon San Jose, Zona Hotelera, 23400 San José del Cabo, B.C.S., Mexico.
---
*All images are copyrighted and trademarks are of their respective owners. SJD Taxi is not affiliated with Hotel Villa Santa Cruz, Todos Santos, Los Cabos.