Cabo Airport Transportation to
Marine Water Front Hotel La Paz
Located within the stunning landscapes of La Paz in Baja California SUR, the Marine Waterfront Hotel in La Paz is an amazing bayfront escape. This hotel embodies the ideal retreat, merging premium amenities with the region's inherent beauty. For guests arriving at Los Cabos Airport, SJD Taxi offers seamless connectivity offering both shuttle services to La Paz and exclusive private transportation direct to the Marine Waterfront Hotel.
$68 Shuttle | $259 Private SUV
If you'd like to converse with a customer service representative, please reach out to us toll-free from the USA and Canada at (248) 582-9239 or 1-866-753-7403. We have family transportation and car seats available for round-trip airport transportation to the Marine Waterfront Hotel.
Los Cabos Airport Transportation to Marine Waterfront Hotel in La Paz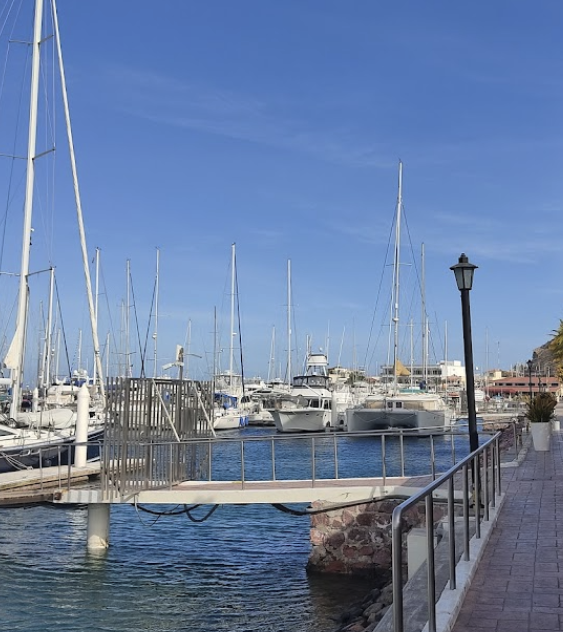 Tucked away in the heart of La Paz, the Marine Waterfront Hotel is a symbol of elegance and comfort for visitors from near and far. Located at Km 2.5, Bahía Pichilingue Fracc, Lomas de Palmira, 23019 La Paz, B.C.S., Mexico, this establishment is not only renowned for its impeccable traditional Mexican amenities but also for its prime spot that offers easy access to the La Paz Bay and scenic views.
A significant advantage of the Marine Waterfront Hotel is its closeness to essential landmarks and transportation hubs in La Paz. You have a walkable distance to the Malecon boardwalk that is delightful for any night. Filled with bike paths, parks, and merchants there is something for everyone. For those arriving by bus, the La Paz bus station is conveniently close. To be precise, it's just 2 miles (roughly 3.2 kilometers) from the hotel. This minimal distance means guests can reach the hotel in a swift 5-minute drive, making it an attractive choice for those using ground transportation.
Convenient Transfers from Cabo Airport
For those flying into the region via the SJD Airport, the Marine Waterfront Hotel remains a favorable stop. The journey from the SJD Airport to the hotel spans 90 miles (around 145 kilometers). With the region's well-structured roads, a typical commute lasts between 1 hour and 45 minutes to 2 hours, contingent on traffic.
Family-Friendly Hotel in La Paz, BCS
Beyond its strategic position, the Marine Waterfront Hotel in La Paz provides an immersive experience of the city. Being centrally located ensures guests are never too far from the city's popular attractions, dining spots, and boutique stores.
Resort Grounds and Amenities: Spanning across expansive acres, the Marine Waterfront Hotel's grounds are a blend of manicured landscapes and natural beauty. As guests wander the pathways, they're greeted by lush greenery, vibrant flowerbeds, and tranquil water features that create an oasis of calm amidst the bustling city. Strategically placed seating areas offer idyllic spots for relaxation, while recreational facilities, such as a state-of-the-art fitness center and a refreshing swimming pool, cater to those seeking more active pursuits.
Rooms and Dining: Inside the hotel, each room is designed with a keen eye for detail, ensuring a harmonious blend of luxury and comfort. From plush bedding and modern amenities to panoramic windows offering views of La Paz's stunning skyline or serene ocean, every space promises a restful retreat. As for gastronomy, the Marine Waterfront Hotel boasts a selection of exquisite restaurants, each bringing a unique flavor palette to the table. Whether guests crave local Mexican delicacies, international gourmet dishes, or just a casual snack by the poolside bar, the culinary team ensures every meal is a delightful experience, complemented by an extensive wine list and ambient settings.
Whether you're a corporate traveler prioritizing accessibility, an adventurer keen on exploring La Paz, or someone seeking a serene getaway, the Marine Waterfront Hotel delivers a combination of location, luxury, and ambiance that stands out. Its favorable location near the La Paz bus station and the SJD Airport solidifies its reputation as a top pick for seasoned travelers.
---
*All images are copyrighted and trademarks are of their respective owners. SJD Taxi is not affiliated with Marine Water Front Hotel La Paz.