Seven Crown Express Hotel Cabo Airport Shuttle
Seven Crown Express Hotel in Cabo San Lucas, Mexico is an affordable and enjoyable place for your visit. Located downtown Cabo and off the main strip, you are within walkable distance of the popular Medano beach, Cabo Marina which includes restaurants and nightlife galore.
$26 Shared Shuttle / $83 Private SUV
Seven Crown Express Hotel is only 37 Km or 21 miles from the SJD Cabo Airport. The driving time is about 40 minutes. There is a shared shuttle from SJD Airport to Seven Crown Express Hotel and Suites. Shuttles depart on a regular basis to and from the SJD Airport.
Seven Crown Express Hotel Cabo Airport Transportation
Seven Crown Express Hotel is located near the Marina of Cabo San Lucas, which boasts a large party calendar full of fun events year-round. There are views of the downtown area and walkable to Medano Beach: one of the only safely swimmable beaches in the region. The hotel is also near Medano Suites Hotel and Elephant Suites.
The Seven Crown Hotel in Cabo San Lucas stands as a testament to comfort, affordability, and strategic location. Nestled in the heart of one of Mexico's most sought-after vacation destinations, this hotel has become synonymous with the charm and allure of Cabo San Lucas.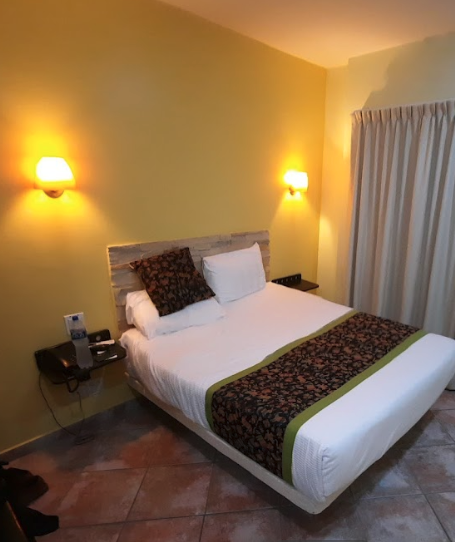 One of the Seven Crown Hotel's most compelling features is its proximity to the region's renowned attractions. Guests are but a short walk away from the famous Marina, where luxurious yachts are berthed and from which various sea expeditions embark, such as whale watching tours and fishing trips. The vibrant downtown scene, pulsating with its nightlife, eateries, and shopping, is also within a stone's throw. This ensures that visitors can soak in the authentic Baja California vibe without the hassle of long commutes.
While the hotel's surroundings are undeniably magnetic, the Seven Crown Hotel itself boasts a plethora of amenities that cater to a wide spectrum of visitors. Whether it's the business traveler needing efficient workspaces or the leisure seeker looking for a pool to unwind, the hotel thoughtfully addresses these needs. Rooms are designed with a blend of contemporary style and traditional Mexican touches, offering comfort and a sense of place. The on-site restaurant, often commended for its diverse menu, serves up delectable local and international dishes, ensuring guests don't wander far for a satisfying meal.
The hospitality sector in Cabo San Lucas is vast, but the Seven Crown Hotel has carved its niche by focusing on providing quality services at a value price. Many visitors commend the hotel staff for their dedication to ensuring guests have a memorable stay. This personalized touch, combined with its prime location and amenities, makes the Seven Crown Hotel a preferred choice for many who flock to Cabo San Lucas seeking sun, sea, and solace.
In essence, the Seven Crown Hotel captures the spirit of Cabo San Lucas: vibrant, welcoming, and deeply rooted in the tapestry of Baja California's rich culture. Seven Crown Express Hotel is only 40 minutes away from the SJD Airport and 30 from downtown San Jose del Cabo.
*all images are copyrighted and trademarks are of their respective owners. SJD Taxi is not affiliated with Seven Crown Express Hotel.