Hotel Casa Tota Cabo Airport Transportation
Introducing SJD Taxi's new Cabo Airport transportation service directly to Hotel Casa Tota! We've streamlined the process, ensuring that arranging private rides or airport transfers to Todos Santos in Los Cabos is as simple as a click or a call. With 24/7 online and phone booking options, securing your transportation is now effortless and reliable.
$55 Shuttle Per Person | $195 Private SUV for 6
At SJD Taxi, we prioritize clear communication and exceptional service. If you have any questions or need assistance, you can contact us toll-free from the USA and Canada at (248) 582-9239 or 1-866-753-7403. We take pride in our transparency, ensuring that the price you're quoted is the final amount, with no hidden fees. Whether you're booking in advance or need a last-minute ride, we're here to help. We specialize in transfers to destinations like Hotel Casa Tota, guaranteeing a smooth and reliable journey.
Hotel Casa Tota Private Airport Transportation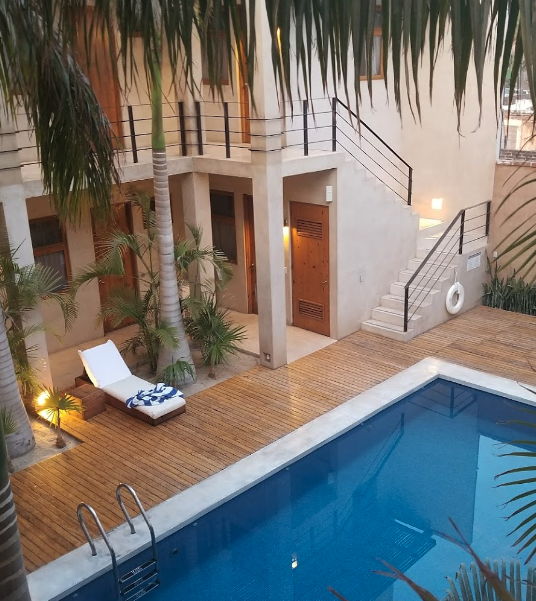 Located in the heart of Todos Santos, a quaint and historic town in Baja California Sur, lies the boutique Hotel Casa Tota. This charming establishment, located at Calle Álvaro Obregón, provides guests with an intimate and unique experience, distinct from the larger resorts found in other parts of Mexico.
Todos Santos, often referred to as the "Pueblo Mágico" or "Magical Town," is known for its vibrant arts scene, historic architecture, and pristine beaches. Hotel Casa Tota captures the essence of this town, offering visitors a blend of contemporary comfort and traditional Mexican aesthetics. Each room is thoughtfully designed with local artwork and crafts, reflecting the rich culture of the region.
One of the many advantages of staying at Hotel Casa Tota is its proximity to various local attractions. The town's art galleries, boutiques, and restaurants are just a short walk away, allowing guests to immerse themselves in the local culture and flavors without the need for lengthy commutes. Hotel Casa Tota is also located close to the famous Hotel California and trendy Hotel San Cristobal.
Hotel Casa Tota Airport Shuttles
For those traveling to Todos Santos via the SJD Airport, the journey to Hotel Casa Tota is both scenic and straightforward. The hotel is approximately 83 kilometers (around 51.5 miles) from the airport. Depending on traffic and the chosen route, the travel time typically ranges from 1 hour to 1 hour and 30 minutes. The drive can offer breathtaking views of the Pacific coastline, desert landscapes, and the Sierra de la Laguna mountains, making the journey as memorable as the destination.
As you finalize your travel plans, it's essential to consider your transportation options. SJD Taxi offers convenient scheduled arrival and departure shared shuttles that can take you to the downtown Todos Santos bus station. From there, local taxis are readily available to whisk you away to Hotel Casa Tota or any other destination in the town. For those seeking a more personalized and direct transfer, SJD Taxi also provides private SUVs and vans. These vehicles are perfect for travelers who prefer a direct route to their villa, resort, or any other location in Todos Santos. With their impeccable service and range of transportation options, you can start your vacation stress-free, knowing that your travel needs are in capable hands.
In conclusion, Hotel Casa Tota in Todos Santos offers an unparalleled boutique hotel experience, combining the town's rich history with modern comforts. And with efficient transportation services like SJD Taxi, getting there has never been easier. Whether you opt for a shared shuttle or a private vehicle, you've ensured a comfortable journey, allowing you to dive into your vacation the moment you step off the plane.
---
*All images are copyrighted and trademarks are of their respective owners. SJD Taxi is not affiliated with Hotel Casa Tota, Todos Santos, Los Cabos.