Hotel San Cristobal Cabo Airport Transportation
Hotel San Cristobal is a boutique hotel located in Baja California Sur, Mexico, on the stunning beaches of Todos Santos. The hotel is housed in a traditional Mexican building that has been restored and renovated to provide guests with a unique and luxurious experience. SJD Taxi provides shuttles to Todos Santos and, direct, private SUVs and Vans to Hotel San Cristobal at discounted rates.

$55 Shuttle to Todos Santos
$195 SUV Direct Transfer
Our drivers take care of everything! This includes personal pick-up at SJD Airport, loading of luggage, and a safe, quick ride to Hotel San Cristobal. Private Airport Transportation includes free cold beer and beverages for your entire group! On a budget? Get the shared shuttle to downtown Todos Santos, then catch a local taxi to Hotel San Cristobal. It is about an hour or so ride.
Cabo Airport Transportation to Hotel San Cristobal
The hotel features 32 beautifully designed rooms, each of which is furnished with a mix of traditional and modern decor. The rooms are spacious and feature comfortable beds, premium linens, and private balconies or patios that overlook the Pacific Ocean. The hotel also features a stunning rooftop suite with breathtaking views of the ocean and surrounding mountains.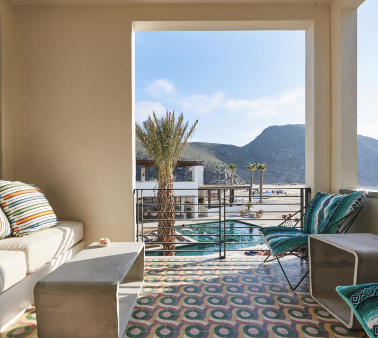 Hotel San Cristobal offers a range of amenities that are designed to cater to the needs of all guests. The hotel has a large swimming pool that is surrounded by comfortable lounge chairs and cabanas, as well as a hot tub for guests to relax in. The hotel also has a fully equipped gym, a spa, and a yoga studio. [ Visit the Instagram ]
One of the highlights of Hotel San Cristobal is its restaurant, Benno. The restaurant is led by acclaimed chef, Benno Wissing, and serves up delicious and innovative dishes using fresh, locally sourced ingredients. Guests can enjoy a range of Mexican and Mediterranean-inspired cuisine, as well as an extensive wine list and creative cocktails.
The hotel also offers a range of activities and experiences for guests to enjoy. Guests can take part in surfing lessons, paddleboarding, and yoga classes. The hotel can also arrange for guests to go on whale-watching tours, horseback riding, and hikes in the nearby mountains.
Hotel San Cristobal Shuttle
Hotel San Cristobal is the perfect destination for anyone looking for a luxurious and unique experience in Baja California Sur. The hotel's stunning location, comfortable rooms, excellent amenities, and exceptional dining make it a top choice for couples, families, and solo travelers alike. Whether you're looking to relax by the pool, explore the local area, or indulge in some delicious food, Hotel San Cristobal has something for everyone.
Travel from SJD Airport to Hotel San Cristobal is about 1 hr 11 min (109.8 km) via Los Cabos Toll Rd and México 19.
*all images are copyright and trademarks are of their respective owners. SJD Taxi is not affiliated with RIU Palace Baja California.