Cabo Airport shuttle to Corazon Beach Club Cabo Villas
Shared shuttle from SJD Airport to Corazon Beach Club at Cabo Villas Hotel, clean vehicles, short wait time, and professional service from our representatives. Want to travel in style? Choose from our wide selection of luxury vehicles from SJD Cabo Airport to Cabo Villas Hotel, this is a non-stop transfer to your destination, with new units, complimentary cold water, and beer. Private round-trip transportation.

Cabo Villas $25 Shared Shuttle / $89 SUV
Our shared shuttle service from the airport provides an efficient and budget-friendly transportation option. We also facilitate seamless pickups from Corazon Beach Cabo and ensure a smooth journey back to Cabo Airport. Upon your arrival at Los Cabos Airport, our representative will be readily available, waiting for you just outside the exit, to help you commence your memorable stay at Corazon Beach Cabo with ease and comfort.
Corazon Beach Club Cabo Villas Resort & Spa Los Cabos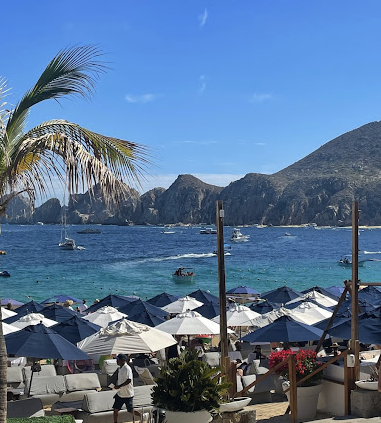 Corazon Beach Club at Cabo Villas is a luxury oasis nestled in the heart of Cabo San Lucas near the famous Me Cabo Resort, offering an unforgettable retreat for travelers seeking to immerse themselves in the natural beauty and vibrant culture of the Baja Peninsula. Its prime location on Medano Beach, one of Cabo's most swimmable beaches on the Sea of Cortez, makes it an idyllic spot for beach lovers.
The resort's architecture reflects the charm of a traditional Mexican hacienda, blending seamlessly with modern accents. The villas are designed with comfort and elegance in mind, featuring contemporary furnishings, sophisticated decor, and breathtaking views of the ocean. Each villa comes equipped with luxury amenities, promising a relaxing and indulgent stay.
Dining at Cachet Beach Cabo Villas is a culinary delight. With several on-site restaurants, guests can enjoy a variety of gastronomic experiences, ranging from local Mexican dishes to international cuisines, all prepared with fresh, local ingredients.
The resort also offers a wide range of amenities and activities designed to enhance guests' stay. Whether it's lounging by the pool, rejuvenating at the spa, or participating in various water sports, Cachet Beach Cabo Villas ensures a memorable vacation experience for every guest. The resort's commitment to exceptional service and luxury living makes it a premier choice for travelers seeking a unique and immersive Cabo experience.
*All images are copyrighted and trademarks are of their respective owners. SJD Taxi is not affiliated with Cachet or Cabo Villas Resort.