Cabo Airport Transportation to Dreams Los Cabos
Looking for transportation from SJD Airport to Dreams Los Cabos? Share shuttle service available, short wait time, few stops, and speedy shuttle service. Professional bilingual and licensed drivers provide transportation from SJD Los Cabos airport to Dreams Hotel in luxury vehicles, with complimentary water and beer upon arrival in all private services.
Our drivers will handle everything you need with luggage that includes loading and unloading. All our airport transportation services allow for maximum comfort in new and clean vehicles.

$22 Shared Shuttle / $89 Private Suburban
Dreams Hotel Los Cabos is only 15 Km or 9 miles from the SJD Cabo Airport. The driving time is about 30 minutes. There is also a shared shuttle from SJD Airport to Dreams Hotel that is an affordable transfer with a slightly longer time from the airport and a few stops before you arrive at your destination. By taking a private transfer you save time, as this is a direct drive.
Cabo Airport Transportation to Dreams Resort Los Cabos
Dreams Resort in San Jose del Cabo, Mexico, is an all-inclusive paradise that beautifully captures the spirit of the Baja Peninsula. Situated against the backdrop of the sapphire-blue Sea of Cortez, the resort is a sanctuary of luxury and tranquility, perfect for vacationers seeking a rejuvenating escape.
Dreams Resort's architecture is a tasteful blend of modern elegance and traditional Mexican design elements. It is nestled within lush, well-manicured gardens, offering a serene ambiance that makes it an idyllic retreat from the hustle and bustle of everyday life.
The resort's 308 rooms and suites are designed with comfort and luxury in mind. Every accommodation offers a private balcony or terrace with stunning views of the sea or lush gardens, creating a peaceful environment for relaxation. The rooms are adorned with tasteful furnishings, modern amenities, and a hint of Mexican charm, making them a comfortable home away from home.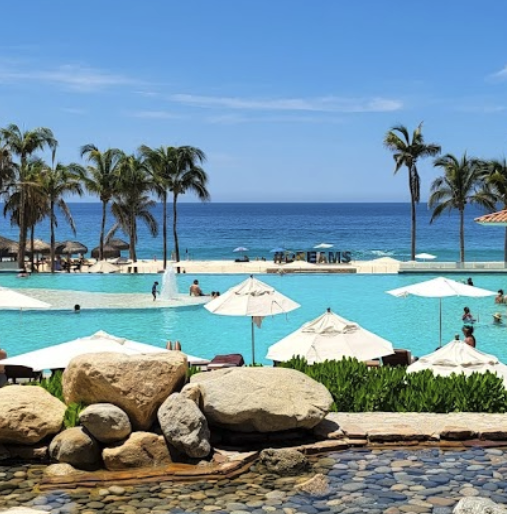 One of the highlights of the resort is its culinary offerings. With several specialty restaurants on-site, guests can embark on a global gastronomic journey. From authentic Mexican cuisine to Asian fusion and fresh seafood, every meal at Dreams Resort is a celebration of flavors.
The resort's world-class spa, Dreams Spa by Pevonia®, provides an oasis of tranquility. Here, guests can indulge in a wide array of treatments, from traditional massages to holistic therapies, all designed to soothe the body and calm the mind.
Dreams Resort offers a plethora of activities designed for all ages. With a beautiful beach, multiple swimming pools, and a fully supervised Explorer's Club for Kids, everyone in the family is guaranteed to have a memorable time. Guests can also indulge in water sports, golf, yoga classes, and more.
In essence, Dreams Resort in San Jose del Cabo is a luxurious haven that offers a unique blend of comfort, relaxation, and entertainment. Its exceptional service, sumptuous accommodations, and diverse offerings make it the perfect destination for a dream vacation.
*all images are copyright and trademarks are of their respective owners. SJD Taxi is not affiliated with Dreams Los Cabos Resort.*