Cabo Airport Transfers to Villa Santa Cruz in Todos Santos
Arrive in style! Private luxury transportation from SJD Cabo Airport to Villa Cruz in Todos Santos, BCS. New, comfortable vehicles driven by professionals with all amenities included. All our private airport transportation allows for maximum comfort and is not shared transport. We specialize in group transfers for families with kids and provide necessary car seats as well!

$195 Private SUV / $249 Sprinter
When arriving at SJD Airport or Los Cabos Private Airport our representative will be waiting for you outside the exit at an assigned location. They will have your name on a sign and will assist you with all the luggage. You'll be escorted to your air-conditioned vehicle where your driver will be waiting for you with cold beer and water.
Villa Santa Cruz Todos Santos Transportation Services
Nestled in the charming town of Todos Santos, Baja California Sur, Villa Santa Cruz is a hidden gem that offers a unique and unforgettable escape on Mexico's beautiful Pacific coast. This boutique beachfront property is a sanctuary of tranquility, blending luxurious accommodations, breathtaking natural surroundings, and warm hospitality. If you are traveling to downtown Todos Santos, we have Todos Santos Shuttles from the SJD Airport as well!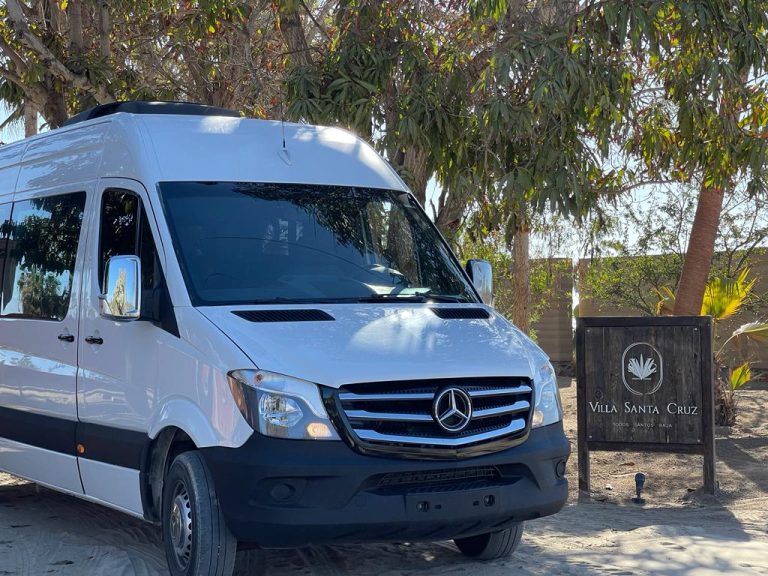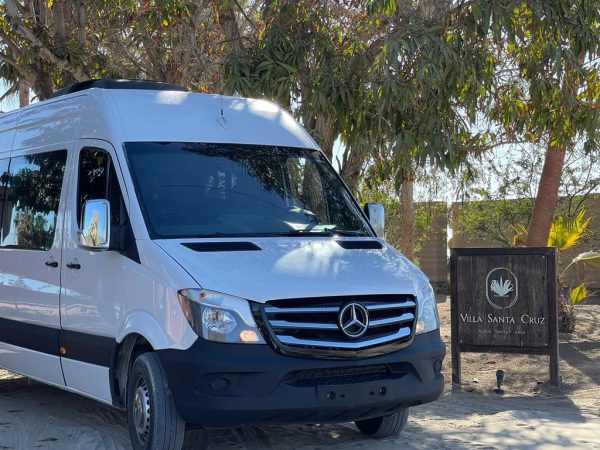 Villa Santa Cruz embodies the essence of a true Mexican retreat. The villa's architecture showcases a harmonious blend of traditional Mexican design with contemporary elegance. The spacious and beautifully appointed guest rooms and suites exude a sense of comfort and relaxation, featuring charming décor, comfortable furnishings, and private terraces or balconies that offer sweeping views of the Pacific Ocean or the lush gardens.
The villa's prime location on a pristine stretch of beach allows guests to bask in the serenity and beauty of the coastal surroundings. Lounge by the infinity-edge pool while sipping on a refreshing cocktail, or take a leisurely stroll along the sandy beach, feeling the warm sand between your toes and listening to the soothing sound of the waves crashing against the shore.
The attentive and friendly staff at Villa Santa Cruz ensures that every guest is treated to personalized service and warm hospitality. From arranging spa treatments and yoga sessions to organizing surf lessons or guided tours of the vibrant town of Todos Santos, the staff goes above and beyond to cater to individual preferences and create memorable experiences.
Villa Santa Cruz also prides itself on its culinary offerings. Indulge in authentic Mexican cuisine prepared with locally sourced ingredients at the villa's on-site restaurant. From fresh seafood delicacies to traditional dishes bursting with flavor, each meal is a celebration of the vibrant Mexican gastronomy.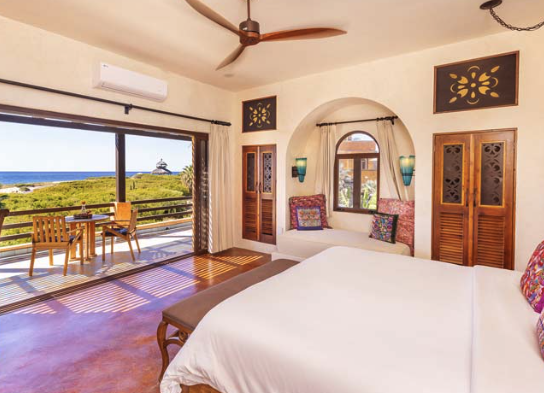 For those seeking adventure, Todos Santos offers a plethora of activities and attractions. Explore the town's vibrant art scene, visit the historic Mission de Nuestra Señora de Pilar, or embark on an exhilarating whale-watching tour. Alternatively, you can simply unwind and soak up the peaceful ambiance of Villa Santa Cruz, where you can immerse yourself in the tranquility of the surroundings and revel in the beauty of nature.
Villa Santa Cruz in Todos Santos is a hidden paradise that beckons travelers seeking an intimate and luxurious getaway. Whether you're looking for relaxation, exploration, or a combination of both, this enchanting retreat offers an idyllic setting to create cherished memories and experience the magic of Baja California Sur.
*All images are copyrighted and trademarks are of their respective owners. SJD Taxi is not affiliated with Esperanza Resort.