Cabo Airport Transportation to Club Cascadas de Baja
Are you traveling to Los Cabos and seeking prompt airport shuttle services or a luxurious SUV for group transfers? SJD Taxi provides exclusive transportation from the airport to the Club Cascadas de Baja in Cabo San Lucas, Mexico. Rest assured, all our vehicles are operated by bilingual drivers who are licensed and insured.

$26 Shuttle | $89 Private SUV
Upon your arrival at Cabo airport, step outside to find a representative holding a sign with your name on it. Hop into a comfortable vehicle, relax, and in no time, you'll be at Club Cascadas de Baja, ready to kickstart your holiday! While the shared shuttle may have 2-3 stops, the private SUV transfers take you directly to Club Cascadas de Baja as soon as you're outside!
Club Cascadas de Baja Cabo San Lucas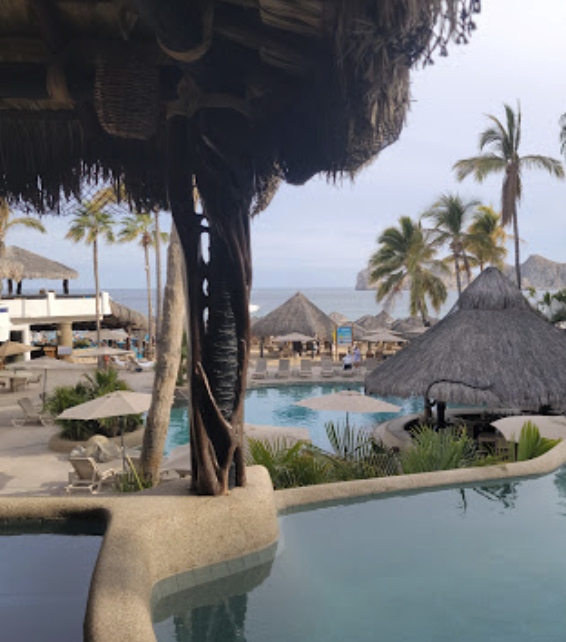 Nestled along the pristine shores of Cabo San Lucas on Medano Beach, Club Cascadas de Baja stands as an embodiment of relaxation and luxury, offering its visitors a serene escape from the mundane. The resort captures the true essence of Mexico, blending traditional architecture with modern amenities to create an environment where guests can experience authentic Mexican hospitality and conveniently located next to Pueblo Bonito Rose Resort, near the Bahia Beach Resort, and walkable to downtown Cabo.
As you step into Club Cascadas de Baja, you're greeted by a landscape of cascading waterfalls, lush tropical gardens, and swaying palm trees, all set against the azure backdrop of the Pacific Ocean. This immersive environment creates a sensory experience that's truly unparalleled. The melodic whisper of waves, the gentle rustling of palm fronds, and the soft chirping of tropical birds all converge into a symphony of nature that's both soothing and invigorating.
The accommodation options at Club Cascadas de Baja are a blend of style and comfort. Ranging from spacious villas to cozy rooms, each offers a unique blend of rustic charm and modern luxury. Handcrafted wooden furnishings, intricate tile work, and traditional Mexican art pieces adorn each room, making every stay a cultural journey.
One of the standout features of the resort is its dining experience. Emphasizing the rich culinary traditions of Mexico, the resort's restaurants offer a myriad of dishes prepared using locally sourced ingredients. Whether it's fresh seafood caught from the Pacific or traditional Mexican delicacies, dining at Club Cascadas de Baja is a celebration of flavors.
Fast Airport Shuttle to Club Cascadas
The location of the resort also makes it an ideal spot for various water-based activities. From exhilarating water sports to tranquil sunset cruises in Cabo, there's something for every kind of traveler. The resort's spa is another highlight, offering treatments that rejuvenate both the body and the soul.
In conclusion, Club Cascadas de Baja isn't just a resort; it's a testament to Mexico's rich cultural tapestry and natural beauty. For those seeking a harmonious blend of relaxation and adventure in a setting that pays homage to traditional Mexican aesthetics, this is the place to be. It's not just a stay; it's an experience, a journey into the heart of Cabo San Lucas.
*all images are copyright and trademarks are of their respective owners. SJD Taxi is not affiliated with Club Cascadas de Baja Resort.*