Cabo Airport to Bahia Hotel & Beach Club
Landing at SJD Airport or Cabo San Lucas Private Airport? Secure a swift shuttle or private transfer to Bahia Hotel & SUR Beach Club. You have the option to opt for a round trip in a private luxury vehicle or a shared shuttle van to Bahia Hotel and Beach House Los Cabos. We also offer cost-effective airport shuttle services for added convenience! All our airport transportation services guarantee a comfortable journey in a modern vehicle, helmed by a professional driver who is bilingual, licensed, and insured.

$26 Shared Shuttle / $89 Private Suburban
Choosing our shared shuttle service from Cabo Airport to Bahia Hotel is an efficient and economical transportation option. We also facilitate pickups from Bahia Hotel, ensuring a convenient return journey to Cabo Airport. Our experienced drivers are ready to assist with all your luggage requirements, including loading and unloading for a hassle-free travel experience. We are your Spring Break Shuttle Solution!
Upon your arrival at SJD or Los Cabos Airport, our representative will be readily waiting for you just outside the exit, holding a sign with your name. Awaiting you inside any Private Transfer will be refreshing cold water and beer for a relaxing start to your journey. As your stay at Bahia Hotel & Beach Club comes to an end, we will arrange for your pickup and transport you back to the airport, ensuring a smooth end to your memorable visit.
Airport Transfer to Bahia Hotel & Beach House Los Cabos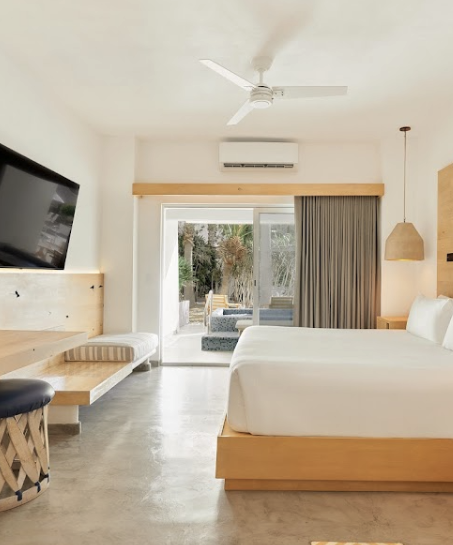 Situated on the sparkling coastline of Los Cabos, the Bahia Hotel & Beach Resort stands as an exquisite blend of comfort, adventure, and Mexican charm. This iconic resort, located a stone's throw from the vibrant downtown of Cabo San Lucas, offers an idyllic setting for travelers seeking a unique blend of relaxation and exploration.
The architecture of Bahia Resort reflects the rich heritage of Mexico, with traditional adobe-style buildings, rustic wooden accents, and warm earth tones, creating an atmosphere that is both welcoming and enchanting. The property is interspersed with verdant gardens, palm trees, and serene water features, offering an intimate connection with nature.
The resort houses 88 elegantly appointed rooms and suites, each designed to provide a tranquil haven for guests. The accommodations are tastefully decorated, blending contemporary design with elements of traditional Mexican art. Each room offers stunning views of the resort's gardens or the azure Sea of Cortez, enhancing the sense of tranquility and relaxation.
SUR Beach Club Transfers
At Bahia Resort, culinary enthusiasts can embark on a gastronomic journey at on-site restaurants like Bar Esquina. From the fresh seafood at Bar Esquina to the authentic Mexican delicacies at SUR Beach House, each dining venue offers a unique experience that celebrates the local culture and flavors.
The resort's private beach club, located on the pristine Medano Beach, not far from Corazon Beach Club is the perfect spot for lounging under the sun, participating in water sports, or simply admiring the stunning views of Land's End. Alternatively, guests can retreat to the pool, surrounded by lush palm trees and cozy cabanas, for a more relaxed experience.
For those seeking rejuvenation, the on-site spa offers a range of treatments that incorporate natural, locally-sourced ingredients. Meanwhile, the fitness center and yoga classes cater to guests seeking to maintain their wellness routine during their stay.
The Bahia Hotel & Beach Resort, with its warm hospitality, top-notch amenities, and prime location, is a true gem in Los Cabos. Offering a seamless blend of relaxation and adventure, this resort promises a truly unforgettable vacation experience for every guest.
* all images are copyright of their respective owners.