breathless Los Cabo Airport Transportation
Shared Shuttle: Get the Cabo vibes rolling right from SJD Airport with our shared shuttle. A breezy, friendly way to zoom straight to Breathless helps you save money for the souvenirs!
Luxe Ride Alert! 🌟: Craving the A-list treatment? Let's jazz up your journey! Glide from SJD Airport to Breathless Cabo in our swanky, brand-new vehicles. And here's the cherry on top: these rides are exclusively yours! No sharing, just you and your squad enjoying pure luxury. Every journey is piloted by our bilingual driving stars, who aren't just pros at the wheel but are also top-notch luggage DJs, mixing up the load & unload tracks for you!
So, whether you're vibing with the crowd or in your private party bubble, we're all about making your ride to Breathless Los Cabos a fun-filled fiesta! 🚗🎶
$25 Shared Shuttle / $89 Private SUV
Breathless Hotel in sunny Los Cabos is a smooth 40-minute drive away, covering 37 Km or 21 miles from SJD Cabo Airport.
Options to get you there:
🚌 Shared Shuttle: A wallet-friendly choice! The shared shuttle from SJD Airport makes a few pit stops, but hey, it's part of the journey before reaching Breathless Hotel Cabo.
🚗 Private Transfer: In a hurry to get the party started? Opt for our direct private transfer. It's all about you, the road, and Breathless waiting at the end!
Choose your vibe and let's get this Cabo adventure rolling!
Breathless Cabo Airport Transportation
Pack your sunnies, flip-flops, and your zest for life – we're diving into the heart of Los Cabos, where the sun kisses the sea and the fun never sets! Welcome to Breathless Los Cabos – the place where the fiesta is endless and siestas are optional!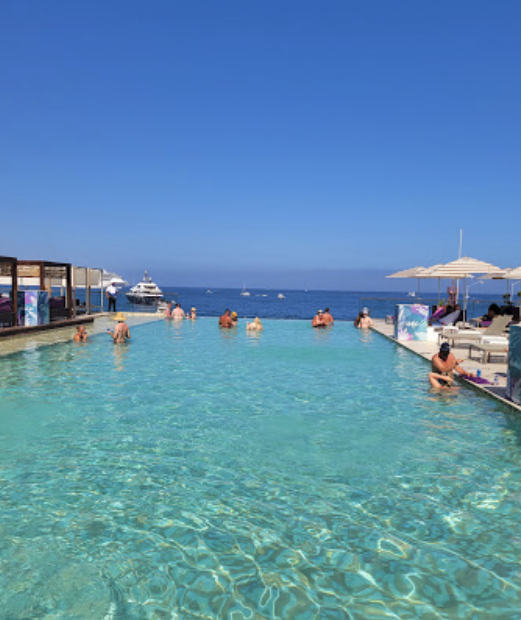 Ever dreamt of a place where the margaritas are as refreshing as the ocean breeze? Well, pinch yourself because you're not dreaming! Located just a salsa dance away from the sparkling blue waters, Breathless boasts vibes that will make even the moon want to vacation here.🌙🍹
Here's the scoop: Location! Nestled between the desert landscapes and the mesmerizing Medano Beach on the Sea of Cortez, you get a slice of nature's best show every day. Whether you're a sunrise yoga enthusiast or a sunset margarita aficionado, the views are tailor-made for every taste.
Now, let's talk about the pool scenes! Picture this: crystal clear waters, swaying palm trees, and DJ beats that'll have you shimmying from noon till night. Need a cool down? Dive into cocktails as vibrant as Cabo's sunsets.
Hungry after all that shimmying? Delight in a culinary carnival, as the restaurants here serve a world on a plate. From spicy Mexican delights to gourmet global cuisines, your taste buds are in for a fiesta!
Of course, the real heart and soul of Breathless? The People! The team here, with their infectious smiles and unmatched service, ensures your stay is as fabulous as the sequined sombrero you didn't know you needed!
Breathless Los Cabos Airport Shuttle
So, whether you're looking to dance the night away, indulge in some delectable eats, or simply lounge in luxe, Breathless Los Cabos is the party ticket you've been searching for! 🎊🌮💃🕺🎈
Don't just breathe, be Breathless in Los Cabos! 🎉🏝️🍍🌞🍹
The Breathless Los Cabos Spa and Resort is only 31 miles or,40 minutes away from the SJD Airport and 30 from downtown San Jose del Cabo.
*all images are copyrighted and trademarks are of their respective owners. SJD Taxi is not affiliated with Breathless Resort.