Cabo Airport Transportation to Playa Grande Resort Los Cabos
Need a ride to the Playa Grande Resort in Cabo San Lucas? Let us handle your transportation needs! We offer both reliable shared shuttle services and private luxury transfers to Playa Grande Los Cabos. All our rides are driven by professional, bilingual chauffeurs to ensure a smooth journey.

$31 Shuttle | $103 Private SUV
We manage all aspects of your luggage, including loading and unloading. Our private airport transfers use new vehicles and offer direct routes to Playa Grande Resort.
Consider our cost-effective shared shuttle service from the airport. Upon your arrival at SJD or Los Cabos Airport, our representative, holding a sign with your name, will greet you outside the exit. They'll assist with your luggage and guide you to your air-conditioned vehicle. For private transfers, enjoy complimentary cold water and beer. When your vacation concludes, we ensure a smooth return to the airport from your hotel.
Playa Grande Los Cabos Airport transportation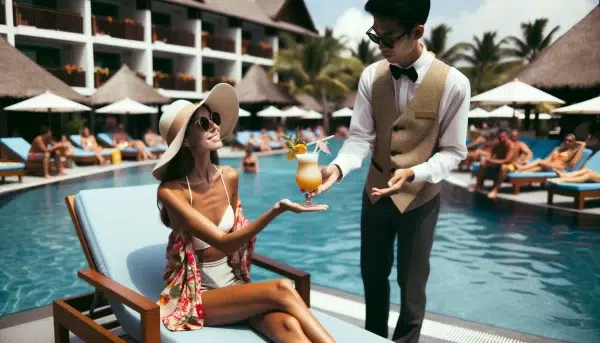 Located along the pristine shores of Cabo San Lucas, the Playa Grande Resort is more than just a holiday destination—it's an invitation to experience unparalleled luxury amidst nature's finest spectacles. As dawn breaks, the resort comes alive with the harmonious sounds of waves lapping against the shimmering sands, set against the iconic silhouette of the Arch of Cabo and next to the Sandos Finnesteria Resort and a short walk to the Mayan Monkey Hostel on the marina.
Every detail at Playa Grande is a testament to its commitment to offering guests an unforgettable stay. The architecture beautifully marries traditional Mexican hacienda charm with contemporary design. As you wander the resort, the meticulously landscaped gardens, punctuated with tropical flora, create a serene ambiance, making it a sanctuary for relaxation and rejuvenation.
Luxury Transfers to Playa Grande
The resort's multiple pools are nothing short of spectacular. From infinity pools that offer panoramic ocean views to secluded lap pools surrounded by lush greenery, there's a perfect spot for every mood. Kids can splash around in their dedicated pool areas, ensuring that guests of all ages have their share of fun under the sun.
Gastronomic Delights
Epicureans, rejoice! Playa Grande Resort boasts a range of dining options that promise to tantalize your taste buds. Whether you're craving fresh seafood, authentic Mexican cuisine, or international delicacies, the resort's restaurants have got you covered. Each eatery offers a unique ambiance—from romantic beachfront dinners to lively indoor settings, making every meal a memorable experience.
Playa Grande Spa
At Playa Grande, those in search of relaxation and rejuvenation will find their oasis in the world-class spa. This tranquil retreat is more than just a spa; it's a journey into a realm of unparalleled relaxation and wellness. The spa specializes in a variety of treatments that draw inspiration from the rich local culture and natural resources, ensuring an authentic and deeply calming experience.
Each treatment at Playa Grande's spa is carefully designed to harmonize the mind, body, and spirit. From soothing massages that incorporate traditional techniques to innovative therapies using locally sourced ingredients, the spa offers a holistic approach to wellness. Whether you choose a detoxifying body wrap, a rejuvenating facial, or a stress-relieving aromatherapy session, you're in for a transformative experience.
The spa's serene ambiance, accentuated by its elegant design and peaceful setting, sets the stage for complete relaxation. The professional and attentive staff are dedicated to providing personalized care, tailoring each treatment to meet your specific needs and preferences. This attention to detail ensures that every guest receives a truly unique and satisfying spa experience.
Beyond individual treatments, the spa at Playa Grande offers wellness packages that cater to those looking to indulge in a more extensive spa journey. These packages might include a combination of massages, facials, and body treatments, complemented by wellness activities such as yoga or meditation sessions, providing a comprehensive approach to health and relaxation.
For those looking to immerse themselves in the local culture, the spa also offers treatments that incorporate traditional Mexican healing practices and indigenous ingredients, providing a unique opportunity to connect with the rich heritage of the region.
Playa Grande Los Cabos Shuttle Services
But what's a splendid stay without a seamless journey? Ensuring that your transition from the Cabo Airport to the resort is smooth and stylish, SJD Taxi offers both shared shuttles for the sociable traveler and private SUVs for those who value exclusivity. With friendly drivers and top-notch vehicles, your ride with SJDtaxi will set the perfect tone for your stay at Playa Grande.
Playa Grande Los Cabos doesn't just offer a place to stay—it offers an experience. With its top-tier amenities, dining options, and impeccable service, your time here promises to be the highlight of your Cabo San Lucas adventure.
---
*all images are copyright and trademarks are of their respective owners. SJD Taxi is not affiliated with Playa Grande Resort.